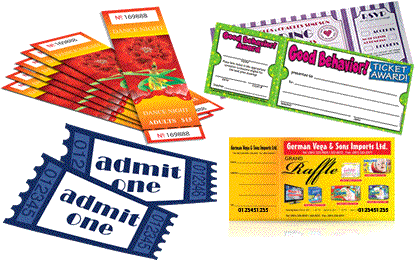 Product Description
Event Tickets
Are you planning an event for your business then why don't you take the benefits of event tickets? Event Tickets are the best strategy to enhance the promotion of the company. For this, "The Sticker Printing" is the perfect stop for you. We are the professional and custom printed event tickets service provider with all the latest techniques which is needed for having a most spectacular and attention-grabbing tickets. If you have a style in mind and planning to promote your business with event tickets, then do consult with us. We have wide range of variety and precise colors and fonts that would simply give you the look which you were still searching for!! We also come up with a short list where you can use your event tickets for enhancing your business. Some of them are:
Backstage or VIP passes
Admissions
Catered Events
Carnivals
Special events
Fairs, festivals, and fundraisers
Corporate events such as picnics or sports
Raffles and door prizes etc.
You can also use tickets for security  purposes because professionally printed tickets are extremely hard to duplicate. Moreover, you can also print tickets in two separate components so that one part may be torn at the doorway to the event and still enable entrants to stay the stub.
The paper which we offer for event tickets printing are made up of superior quality and recyclable. You can also go with the two-sided printing options to make the best utilization of your advertising space. The sizes which we are offering for event tickets include 44mm X 140mm, 50mm X 140mm, 101mm X 155mm and custom sizes. We offer full color custom tickets printing with or without perforation. Tickets can be customized by applying custom die cutting, foil stamping or any other custom jobs like this. We print tickets on 210 GSM , 260GSM , 350GSM or on all custom and fancy cards. If you have any questions, you may call us or send us an email. Our customer services center operates 24/7.